<![if !supportEmptyParas]> <![endif]>
Instruction Sheet MP Series Pneumatic Pump


Assembly and Operating

Cut tube to length of container. Insert through container opening making sure the tapered plug fits air-tight. If the opening is larger than 2 inches, a No. 468 taper adapter must be slipped on over the plug. For use in 55-gallon drums. The No. 470 adapter is recommended, and the Delaware adapter for Delaware containers.

Accessories

If required, hold down clamps are available to clamp securely to either a No. 470 or Delaware adapter.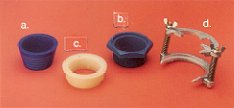 a.) No. 468 Adapter for diameters to 2 ½" - 15 gallon drums and most polyethylene carboys

<![if !vml]>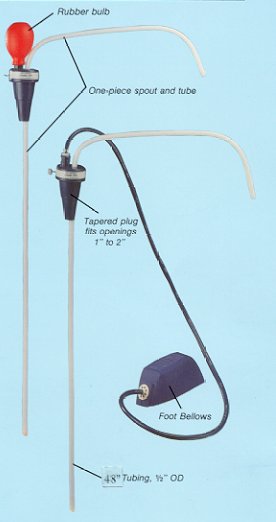 <![endif]>b.) No. 470 Adapter for 55-gallon drums with a 2' I.P.S. opening.

c.) Delaware Adapter used for Delaware containers with 2" buttress thread.

d.) Hold Down Clamp recommended for use with No. 470 or Delaware Adapter.

e.) Rubber Boot for 2 1/2" mouth smooth bore jar. No clamp required, built in.

Complete Adapter kit No. 10633 contains all the accessories above.

To Stop Flow, release air pressure by turning the release screw counter clockwise.

WARNING:
To prevent personal injury, operator should always wear approved protective goggles and clothing.

Important (Care of Pump)

For best results. Do not leave pump in container. Flush With Water After Each Use. When not in use. Lift pump out of container. This removes the pump from corrosion acid fumes.
<![if !supportEmptyParas]> <![endif]>
<![if !vml]>

<![endif]>In the electric model the foot bellows is replaced by the electric
                                pump and foot switch. The pump is 115 volts, 2 amps.
<![if !supportLineBreakNewLine]>
<![endif]>
<![if !supportEmptyParas]> <![endif]>
<![if !supportEmptyParas]> <![endif]>